Occupational health and safety is a major priority for every organization and association. Employers value their employees, and they want to ensure that they remain healthy and safe on the job.
The Occupational Health and Safety Act (OHSA) and its Regulations apply to all businesses in Ontario, regardless of their size, WSIB coverage or private insurance. However, complying with this legislation can present challenges for some business owners. When it comes to occupational health and safety, many organizations are limited in resources, time and money, and experience a lack of proper guidance and relevant support materials.
Ontario organizations require effective support to improve workplace health and safety; this is what Public Services Health & Safety Association provides to you.
PSHSA's Affiliate Program is an excellent opportunity to share valuable health and safety resources with your organizations' employees, members and stakeholders, thus improving awareness, injury rates and compliance.
Why Join?
✓ Collaboration is simple. PSHSA will provide you with a variety of linking options to display on your website to meet the unique needs of your audience.
✓ Provide better service. Health and safety is important to everyone. PSHSA affiliates provide their audience with simple and effective tools.
✓ It's Free! There are no charges or set-up fees associated with becoming a PSHSA affiliate.
✓ The Affiliate Program creates a competitive advantage and enhances your members' services & experiences.
✓ Partner with an Industry Leader. A funded partner of the Ontario Ministry of Labour, PSHSA is a leading provider of health and safety consulting, training and resources. We are committed to creating safer workplaces through collaboration, innovation and knowledge transfer.
Let your employees and members know how much you value their health and safety. Partner with PSHSA and help us improve occupational health and safety in Ontario.
Affiliate Options
Our affiliate program offers a number of opportunities to help you better support the health and safety of your community.
Dedicated Online Resource Gateway
 
PSHSA offers a variety of free resources to assist Ontario business owners, managers and health & safety representatives in understanding their rights, roles and responsibilities, and preventing injury and illness in the workplace. Work with us to create an area of your website containing health & safety resources specifically tailored to the unique needs of your industry as selected by you, and maintained by us.
Topics include:
Legal Compliance
Office Ergonomics
Workplace Violence
Infection Prevention & Control
and more!
By becoming an affiliate, sharing this information and making these resources available, your organization can play an important role in strengthening the health and safety of your organization and that of your member organizations.
ipad 300x265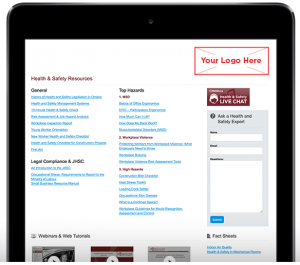 Display online banners to make your employees or membership aware of helpful and relevant health and safety resources.